The Credit Union Difference
What's the difference between a credit union like U1 and a bank? Simply put, we are a not-for-profit financial co-operative that exists to create personal, community and financial wellbeing. We'll empower your financial life by creating the best possible experience. Members get more. We put people before profits and members get personalized service and one-on-one attention. We look beyond the numbers to do what's right for you.
You're not just another customer, you're a member which means you are also an owner! Our not-for profit model means we return funds to all member-owners in the form of dividends and lower rates. And those funds, regardless of the suite of products you choose to use; savings, checking, individual retirement accounts (IRA), or health savings accounts (HSA) are insured by NCUA.
What is the NCUA?
The National Credit Union Administration (NCUA) is an independent agency of the U.S. government that regulates, charters and supervises credit unions. NCUA also operates and manages the National Credit Union Share Insurance Fund (NCUSIF). Backed by the full faith and credit of the U.S. government, the NCUSIF insures the accounts of millions of account holders with credit unions nationwide. More information can be found at https://www.ncua.gov/
NCUA vs. FDIC
The only difference is the NCUA insures Credit Union deposits whereas the FDIC insures bank deposits. Other than that, the two work similarly. If a credit union should happen to fail, the NCUA will pay insured deposits to the member owning the account. Standard coverage limits for both NCUA and FDIC insurance amounts are $250,000 per account owner, per insured credit union, for each account ownership category. For members with joint account ownership each member is insured for up to $250,000 or a total of $500,000.
Most credit unions, and especially U1, are very invested in the local communities and are partnered with local businesses through chamber of commerce interactions. With an all-volunteer Board of Directors, credit unions have local decision makers and feature a full range of products and services including personal Financial Advisors to help with investment and retirement planning as well as conducting in person seminars.
Products & Services include but are not limited to:
| | | |
| --- | --- | --- |
| | | Other Resources |
| | | |
| | | |
| | | |
| | | ATM Network |
| | | Money Orders |
| | | Safe Deposit Boxes |
| | | |
Membership Eligibility
Anyone can be a member of a Credit Union. There are certain, simple eligibility requirements however. You must Live, Work, or Worship in a county where the Credit Union is chartered. OR be a member of a Select Employee Group (SEG). For additional information, visit our eligibility page.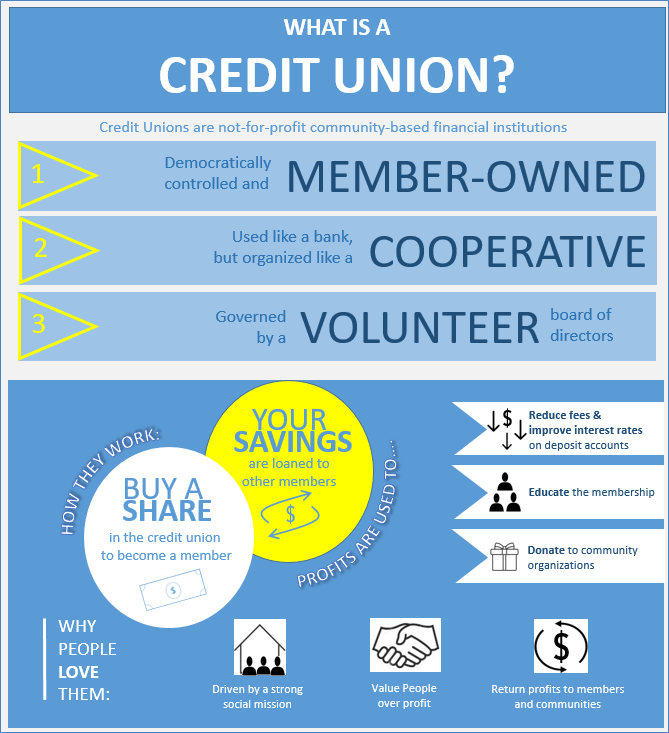 « Return to "U1's Blog"
Go to main navigation