Social Media Account Spoofing
Social media platforms such as Facebook, Twitter, Instagram, and LinkedIn are wonderful tools for staying connected. Unfortunately, these platforms are also wonderful tools to manipulate and phish unsuspecting users. One way cybercriminals use social media to their advantage is through account spoofing.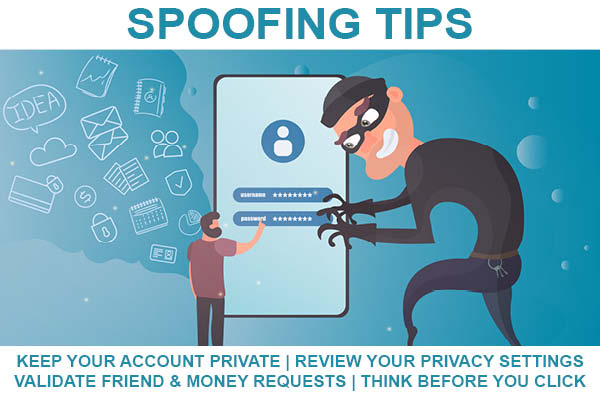 How can I spot a spoofed account?
Account spoofing is when a scammer copies information from a social media account, such as the user's name, location, and photos, to create a look-alike account of that user. And then, from the spoofed account, the scammers send connection requests to everyone on the original account's list. Sometimes they even message these users with an excuse, such as "Sorry, I got hacked and had to make a new account!", to make the request more convincing.
It's easy for a cybercriminal to access a system that is not updated. Software updates not only fix issues, but also make sure you have the latest security features. As technology advances, cybercriminals must find new ways to access your information. By keeping up to date on your software, you're staying ahead of cybercriminals.
Think before you click.
We tend to trust the people we are connected with, so the bad guys exploit this trust to phish for sensitive information, share malware, and even request money. It can be tough to tell if a social media account is authentic just by looking at it. Luckily, scammers like to make the first move. Keep the following in mind:
Be cautious of any links sent through social media. Especially those that are off-topic, unusual, or outlandish such as gossip videos, dramatic news articles, or fabulous prizes.
If you're being asked for money—it's probably a scam. If you feel the request may be legitimate, validate who you are speaking with and request proof of their claims.
Don't trust connection requests or a suspicious message from someone who you are already connected with. Before responding, try to contact the person through a different form of communication like phone, text, or email.
If you suspect that an account is a spoof of a real account, alert the owner of the legitimate account and report the suspicious account to the platform's customer service department.
How can I prevent my account from being spoofed? Keep your friends, followers, and reputation safe by following these tips:
Keep your account private. While this doesn't hide your information completely, it greatly reduces your chances of being spoofed.
Social media platforms have numerous security options that can easily be overlooked. Review and edit your privacy settings to be sure your information is kept private.
Only accept connection requests from people you know and are comfortable sharing your posts with.
If you suspect that your account has been spoofed, contact the social media platform's customer service department.
*KnowBe4 Security Team, Title: Security Hints & Tips: Social Media Account Spoofing, https://www.knowbe4.com/
« Return to "Blog"
Go to main navigation