To Rent or To Buy...That is the Question
You often hear that renting a home is a waste of money and that buying a home is a bad investment. So basically whichever you do…it's a bad decision. But there are pros and cons to each and asking which one would benefit you most is important before making a decision.
Whether you're single or have a family, circumstances will vary for everyone and you'll want to make sure home life is comfy.
So before you make a decision, ask yourself these questions:
1. What can I afford?
On top of monthly mortgage payments, you'll typically need to have a down payment, closing costs and other fees associated with buying a house. You may need to adjust your financial priorities and lower daily expenses if you want to own a home. Assess your financial goals and make sure your budget is in line before making such a big decision. Check out this 2 minute video on "Getting a Mortgage". Keep in mind, getting a mortgage will take longer than 2 minutes. J
2. How long do you plan to live here?
This will help determine if renting is a better option. You may be single and often on the move, living from city to city. Buying a house could anchor you down financially and literally.
On the other hand, you may like your city, have a steady job and see yourself here for years. Buying could be more cost effective.
3. What about property taxes?
When renting, you don't have to pay property taxes and your renter's insurance should be a lot lower than homeowner's insurance. You also have to consider the amount of property taxes when buying a home. In most cases, along with homeowner's insurance, property taxes are lumped into your monthly payment. So where you choose to live could increase your monthly payment significantly. Find out what rates are in your location with this property tax calculator.
4. Can I handle the risks of owning a home?
This is a big investment. Are you comfortable with potential financial sufferings? Appliance repairs that you will now be responsible for? The possibility of unemployment? These are things you should consider before signing off on anything. A home warranty can lessen the impact of these situations. Ask your realtor for more details.
5. What do you prefer?
Are you the type of person who likes to be in control? Do you favor privacy and freedom of choice that comes with owning a home? Or maybe you like the short-term renting commitment and convenience of maintenance coming to fix your broken air conditioner.
Be sure to consider this as well.
Also, you may want to familiarize yourself with some home repair practices before buying a house. Or invest in some rafts and paddles for the inevitable basement flooding.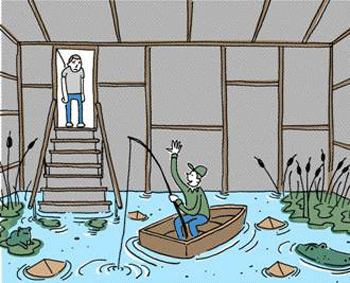 The decision to buy a house or rent is one of the biggest considerations you'll make in your life, and an important one at that! Make sure you do your research and have a good sense of budgeting. And, if you ever need advice or are looking to take the first steps on buying a home, share a comment below, visit u1cu.org/mortgage or give us a call at 800-762-9555 ext. 424.
« Return to "U1's Blog"
Go to main navigation