One less bill to worry about.
Let's make life easier. Make a payment for any of your U1 Loans by logging into Online Banking, giving us a call, direct mail, visiting a U1 Division Office or Shared Branch.
Login to your Online Banking account to make a U1 loan payment from an outside bank or credit union account. Under the Move Money/Pay U1 Loan tab within Online Banking, click Pay U1 Loan from other Bank/CU to get started.

(No Fee)

M-F: 9:00 am to 6:00 pm &
Sat: 9:00 am to 12:30 pm
937-431-3100 opt. 0
800-543-5000 opt. 0

(Fee may apply.)

Attn: Loan Payments
Universal 1 Credit Union
1 River Park Dr.
Dayton, OH 45409

(Include account # on check.)
Logging in to Online Banking for the first time? We're here to help! Just give us a quick call or register through the U1 mobile app and let's get you started!
memberservices@u1cu.org | 937-431-3100 option 0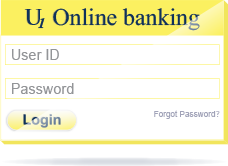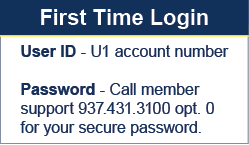 Download the App Today!
Go to main navigation