We are what we drive.
Our vehicles often represent us. Whether it's a flashy ride that you know gets a second glance or a durable truck that will last, it's important to you...and that means it's important to U1. Finance your new or used car with our low rates and flexible terms!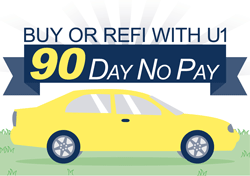 LIMITED TIME SPECIAL OFFER!
Buy or Refi with U1! Applies to new, used or refinanced auto loan with our great rates below.
90 Day No Pay - No payments for the first three months!
We can help you be you with an auto loan. The process is quick and now more convenient with our U1 Mobile friendly applications!


We're here to help!
For questions or additional information,
send an email or give us a call.
LoansRP@universal1cu.org | 800-762-9555 opt. 5
---
Auto
Type
Term
APR - As Low As
2014 - Newer
Up to 63 months
2.49%
2014 - Newer
64 - 75 months
2.99%
2014 - Newer
76 - 84 months
3.79%
2010 - 2013
Up to 63 months
3.69%
2010 - 2013
64 - 75 months
3.99%
2010 - 2013
76 - 84 months
4.99%
2006 - 2009
Up to 48 months
3.99%
2006 - 2009
49 - 72 months
4.79%
* APR = Annual Percentage Rate. Promotion applies to all new, used and refinanced automobiles (motorcycles, boats, ATV's and RV's not included). External loan refinances only. Promotion excludes mortgages, credit cards, merchant loans, and variable rate loans. Interest will continue to accumulate on your loan during the 90 days of no pay. Your regular loan payment will resume the month following the 90 days. Loan rate not lower than 2.49%. All loans are subject to credit approval. Rates, terms and conditions vary based on creditworthiness and amount financed. Other restrictions may apply. Rate and terms subject to change. Length of promotion is at U1's discretion.
Go to main navigation