Beginning at 5:00 a.m. EST on Sunday December 16, we will be conducting maintenance on the online banking system. You may experience intermittent login issues during this time. The maintenance should end around 8:00 a.m. EST and we apologize for any inconvenience.

Online Banking
Chat
Chat
Do you need assistance?
News
Don't Get Scammed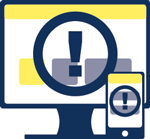 Scammers are continually coming up with different ways to steal money and if you're not careful or don't know what to look out for, you could be at risk. It's important to know that there are different types of scams. See what some of the most common ones are here.
U1 has a few links to external sites but does not operate them.
The credit union is not responsible for their content, and site security and privacy policies may differ.
U1 does not represent you or the third party if both enter into a transaction.