Protecting Your Personal Information
We take online security very seriously here at U1. Protecting your personal information is important to us and we want to make sure you have all the tips to help you prevent identity theft. We will NEVER contact you via phone or email and ask you to verify your account information and we strongly encourage you to add a passcode/passphrase to your account. Visit a U1 office to set up your passcode/passphrase. You should also never give your account information, including credit/debit card PIN and online banking credentials, to anyone. If you have, please contact us for instructions on how to reset your information.

Username & Passwords
Create a strong Online Banking username and password
Use special characters, upper/lowercase letters, numbers and make it easy to remember
Use a different username that you do not use for other accounts.
Try to avoid personally identifiable information like your name, date of birth or Social Security Number in your username and/or password.
Protect your passwords. Do not save them on internet sites.

Phishing Scams
If you receive an official-looking email from what appears to be an official source like the IRS or someone in the tax industry, look for these underlying messages to help determine if it's a scam. Beware of lookalike login sites that attempt to capture personal information. In regards to emails, you should: 1) Be wary of unknown authors and attachments which could contain a computer virus, 2) Not click on emails that look suspicious, and 3) When in doubt, just delete! Below are examples of what a phishing scam may sound or look like.

Credit/Debit Card Fraud
There are many different ways card fraud can occur, whether through online scams or skimmers installed on ATMs or gas station pumps.

Below are some methods to help keep your card information secure.
Never give your card information to anyone over the phone unless you deem them a trustworthy source.
Be careful using your card online. Be sure the website is dependable and has a reputable background/history.
Look for unusual card slots on ATMs and gas station pumps. Feel around the slot and see if it moves. It could be a skimmer that was installed to steal card information. If you're skeptical, notify the gas station attendant or give U1 a call.
Shred your card statements that contain personal information before throwing them away.
Be aware of new EMV chip-enabled card scams.

Social Media Scams
There are several social media scams that attempt to capture personal information or infect your computer with Malware. Be sure to keep your guard up when using social media platforms.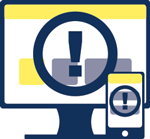 Reporting security issues
If you have any questions or concerns about emails, websites or unsolicited calls related to Universal 1, please email our Compliance department at compliance@u1cu.org. You can also call our eServices representatives at 800-543-5000 option 0 or 937-431-3100 option 0.

View our hours & locations here.
If you suspect you are a victim of identity theft or your information was exposed in a data breach, visit The Federal Trade Commission's ID theft recovery plan webpage to take action.
---
Need help? Our dedicated member services team is here to help! Send us a chat message, schedule an appointment, email or give us a call.
SCHEDULE AN APPOINTMENT
memberservices@u1cu.org | 800-762-9555 opt. 0
Go to main navigation