A Beginner's Guide to U1 Mobile Banking
Online Banking has become increasingly popular over the last decade. Users can control their finances, check balances and keep up with payments without walking into a branch; it's quick, convenient, and simple.
But today, going to the computer is now what walking into a branch once was (for some).
Make way for Mobile Banking. With the development of smartphones, users are now able to download mobile banking apps to control their finances from the palm of their hand.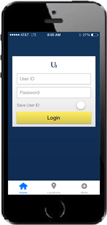 U1 first launched Mobile Banking in 2010 and it's been growing ever since. Users have the capability to check balances, transfer funds, make bill payments, deposit checks remotely and even apply for loans through their mobile device.
Along many other benefits, the U1 Mobile App is safe and secure. We take online security very seriously and protecting your personal information is a top priority for us.
With that said, some may be hesitant to sign up for Mobile Banking. We understand it may not be a preferred way to bank for some, but for those who are interested or new to U1 Mobile Banking, this quick beginners guide will lay out all the know-hows the app has to offer.
Once the App is downloaded and you're logged in, you will see popular options within the hamburger menu (Android) or at the bottom (iPhone). Let's go over some.
Accounts – All of your accounts with U1 will appear on the dashboard where you can check balances and transfer funds.
Bill Pay – Allows users to pay any bill in about 60 seconds within the App.
Check Deposit – Remote Deposit Capture allows you to snap a photo of a check and deposit the amount in your Checking account.
Popmoney – Send to or receive money from anyone using a phone number or email address.
Get Cash Back – Receive cash back rewards from places you love by using your U1 Debit card.
Loan Payment – Pay your U1 loan from an external financial institution account.
Apply for a Loan/Open an Account – That's right! You can open an account right there within the Mobile App.
That's not all…
Settings

Touch ID – Log into the U1 Mobile App just by using your stored fingerprint. Be sure your Touch ID or Fingerprint ID is activated on your mobile device.
Push Notifications – Set up personalized notifications/alerts for your accounts. Whether it's a certain balance or limit, you will receive notifications from the Mobile App.
Quick Balance – when this feature is turned on, users can view their balance without having to login. Once enabled, just swipe down on the app login screen.
So there you have it, albeit a short overview, but that's the beauty of the U1 Mobile App; it's simple and convenient! If you happen to be timid about signing up for Online or Mobile Banking, keep in mind it is safe, secure and doesn't have to replace visiting a branch or other ways you choose to bank with us. It's purely a convenience and adaption to the technology available.
Download the App Today!
« Return to "U1's Blog"