How to Manage Your Student Loan Debt
So you've just endured two, four, six…maybe eight years of college education, graduated and received your diploma. Congratulations! This is a huge accomplishment and should be celebrated properly!
Hold on a sec…
If you're like most college graduates, you now have a pile of debt from student loans, unless of course you received a scholarship and/or grant money to pay for your education, in which case – good for you, smarty pants. J
But for most graduates, financial aid is used for higher education. A large percentage of college graduates owe an average of more than $37,000 for the four years (or longer) they put in earning a degree*.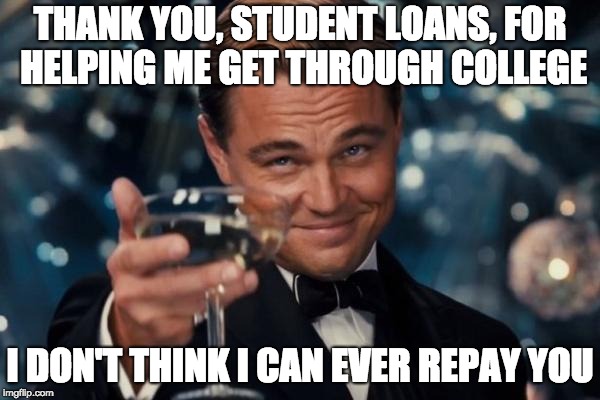 So you might be thinking about a college education, but decide otherwise based on this statement. But student loan debt can be considered "good debt" due to the opportunities it provides, as well as the effect it has on your credit.
Let's take a look at how you can manage student loan debt efficiently after college:
Determine your monthly income and expenses: Create a monthly budget plan to see what payment plan is right for you. Most are standard fixed amounts or plans that increase over time, but others could be income driven. Be sure to list all your expenses such as groceries, car payment, gas and utilities. If your budget result is positive, good work! You're spending less than you're earning. If it's a negative number, you should consider ways to save or reprioritize your expenditures.
Continue your college lifestyle: As in spending! Sure some of us indulged in the parties and skipping classes, but keeping your college spending habits can help, at least in the short term. Continue living with roommates, learn to cook if you're tired of the Ramen, carpool, buy inexpensive clothing, etc.
Avoid additional debt: Stick within your budget. As nice as a new house may seem or a giant wedding, it may cost you in the long run. Use common sense and modify these dreams to fit your circumstances.
Earn more money: Seems easy, right? If you're currently employed – great! But are you still struggling to pay your debt? Pursue additional job opportunities, part-time jobs, sell unwanted belongings, tap into the sharing economy (Uber driver, rent out apartment on Airbnb, pet sitting, etc.). Some jobs even offer to pay your debt or offer student loan forgiveness. There are plenty of ways to make some extra cash – check out this article on ways to make more money from TheSimpleDollar.com; they list several money-making options that could give you a raise in income!
Sign up for Auto-Debit: With some lenders, you can lower your interest if you enroll in automatic payments. It may be small, but beneficial in the long run. This also would eliminate any missed payments and late fees that come along with it – which will appear on your credit score!
Deduct your interest: Hey, taxes aren't all that bad after all! Don't forget to deduct you student loan interest come tax time. You may be able to reduce your taxable income by up to $2,500 on any interest you've paid for that year.*
Deferment: Depending on the loan type, you may opt for a deferment (What is Student Loan Deferment & Forbearance). If you're still in school, unemployed, active military member, or another approved situation, deferment will allow you to stop making payments for a limited time (this will not affect your credit score). If you happen to defer your student loans, you should continue making interest payments on your loan to help soften the burden when deferment ends.
Student loans can be daunting, but there are smart ways to deal with them. Whatever you do, don't default on your loan. If you can't afford payments, contact your loan provider to find a better option.
If you're an undergraduate, graduate student or parent looking for higher education loans, we've partnered with Sallie Mae® to offer low rate student loans. Get the money you need for school with no origination fees or prepayment penalties. Visit u1cu.org/StudentLoans for more information.
Sources
* https://www.debt.org/students/debt/
« Return to "U1's Blog"