Halloween Safety: Tips for Trick-or-Treaters
With Halloween just around the corner, families are eagerly preparing for a night of trick-or-treating in their neighborhoods. To ensure that this year's spooky celebration is both safe and enjoyable, consider these valuable tips: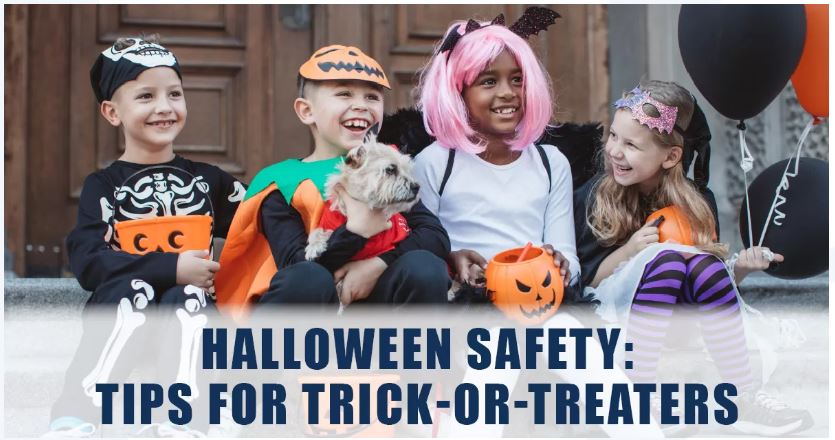 Stick together: Always walk in a group or with a parent or trusted adult. Trick-or-treating alone can be risky, especially in unfamiliar neighborhoods. Costumes can sometimes make it challenging to identify someone you know, so having a buddy along adds an extra layer of safety.
Inspect treats: Before indulging in your candy stash, have a parent or trusted adult inspect it. Although tampering is rare, it's best to be cautious and avoid any surprises when biting into that Snickers bar.
Stay alert: Look both ways before crossing streets and remain aware of your surroundings. Pedestrians can be hard to spot, especially at night, and dark costumes don't help. To enhance visibility, carry a flashlight, wear reflective tape, or use glow sticks to ensure others can see you as you cross paths.
Choose wisely: Avoid stopping at houses with no lights or holiday decorations, as they may not be participating in Halloween or may not be home.
Stranger danger: Never enter the home of someone you don't know unless a parent or trusted adult is with you. If someone invites you inside, politely decline and continue on your way.
Comfort counts: Wear well-fitting masks, costumes, and shoes to prevent obstructed vision, trips, or falls. Masks can sometimes limit peripheral vision or depth perception, so consider removing them while walking from house to house.
By following these helpful tips, you can ensure a smooth and safe journey through your neighborhood's spooky delights. A secure evening of trick-or-treating promises lots of Halloween fun. From all of us at Universal 1 Credit Union, we wish you a Happy Halloween!
« Return to "Blog"
Go to main navigation