Preventing Elder Fraud: A Guide for Families
In today's post-pandemic world, staying connected is more critical than ever. One aspect of this connection is safeguarding our loved ones, especially seniors, from the threat of elder fraud. Elder fraud and financial abuse can manifest in various forms, and seniors are often targeted through cunning schemes.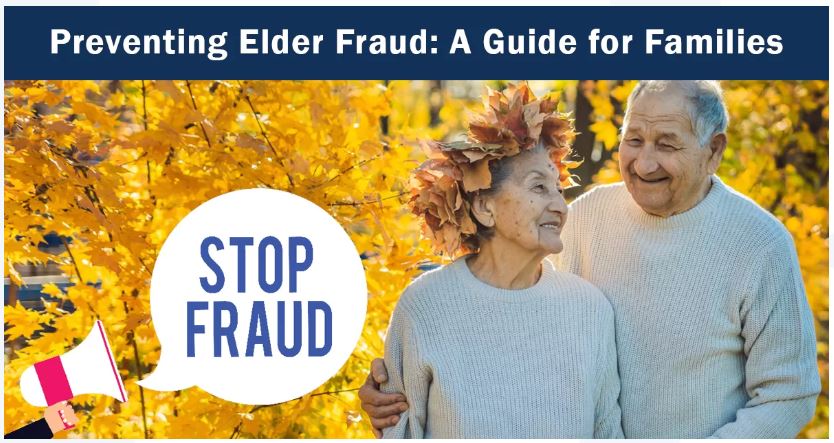 Some of the most common types of scams include
1. Grandparent scams: Fraudsters pose as a grandchild or another relative and reach out to older individuals, claiming to be in dire trouble and in need of immediate financial assistance. These scams typically occur over the phone or through social media. To safeguard against this, always verify the situation with the child's parents or other family members before transferring or wiring any funds.
2. IRS scams: Criminals impersonate the IRS and demand swift payment for alleged fines or back taxes. It's crucial to remember that the authentic IRS will never demand payments over the phone or threaten criminal charges or arrests. Review U1's Protecting Your Personal Information Blog.
3. Exploitation by family members or caregivers: This form of financial abuse occurs when trusted individuals misuse a victim's debit or credit card without permission, manipulate the victim into signing over property or power of attorney, or otherwise take advantage of an older person for their own financial gain.
What are the warning signs?
Unusual account activity, such as large and unexplained withdrawals.
Suspicious signatures on checks that appear inconsistent with the victim's handwriting.
Missing bank statements or credit card bills. Criminals sometimes try to cover their tracks by altering mailing addresses or halting the delivery of paper statements.
Friends, caretakers, or relatives who suddenly take a keen interest in accompanying an older person to the bank or managing their financial affairs.
Tips to prevent elder fraud
1. Maintain communication: Encourage regular communication with your loved ones. Remind them to avoid sharing personal financial details through email, phone calls, or text messages. Help them sign up for the National Do Not Call Registry and initiate an open conversation about common scams targeting seniors.
2. Designate trusted contacts: Reach out to their financial institution to inquire about adding a trusted contact or view-only user to their account. This individual can be contacted if suspicious transactions occur or if your loved one cannot be reached. It's a safer alternative to a joint account, which allows direct fund withdrawals.
3. Monitor accounts: Stay vigilant with the help of technology. Set up online tools designed to detect suspicious transactions, fraud, and identity theft. Some programs even provide guidance on reporting and recovering losses.
4. Appoint financial power of attorney: In case your loved one becomes incapacitated, it's crucial to protect their finances. Consider consulting a lawyer to customize a power-of-attorney form according to their specific needs, whether it involves tax filings or property management. Eldercare Locator offers free and low-cost options for assistance.
5. Veteran caregivers: When seeking healthcare or home management assistance, opt for caregivers from reputable, bonded agencies with strict screening processes. Stay vigilant even after hiring, requesting regular updates, and conducting in-person observations when possible.
What to do if elder fraud occurs
1. Alert financial institutions: If elder fraud has occurred, contact their bank, credit union, or wire transfer service immediately to request the cancellation or reversal of fraudulent transactions, if possible. At the very least, they can actively monitor their accounts. Additionally, notify the Social Security Administration and major credit bureaus (Experian, TransUnion, Equifax) to limit potential damage from identity theft.
2. Report abuse: Suspected exploitation should be reported to the local Adult Protective Services (Ohio) agency, which may have varying names depending on the location. These agencies connect individuals with social service programs that advocate for older and disabled adults in need of assistance. You can also report abuse to the local District Attorney's office and request prosecution of the responsible party. In cases involving online scams, visit The Federal Trade Commission's ID theft recovery plan webpage to take action.
3. Offer support: Victims of financial exploitation often experience shame and grief. Be patient and supportive as they process their emotions and provide vocal reassurance while helping navigate the next steps. Consider proactive gestures like running errands or planning family events to reduce stress.
4. Create a game plan: Establish regular family meetings to address budgeting, bill payments, or any lingering financial concerns.
Protecting our elders from fraud is a collective responsibility. By taking these proactive measures and offering support, we can ensure their financial well-being and peace of mind. At Universal 1 Credit Union, we are committed to assisting our members and their families in all aspects of financial security.
« Return to "Blog"
Go to main navigation