DAYTON, Ohio – The Carroll High Unity in Community Blood Drive returned to the Patriot gym last spring, two years after the COVID-19 shutdown. On Dec. 2 the Unity Award presentation also returned to the gym in front of a packed house for the rival Carroll vs. Chaminade Julienne High School men's basketball game.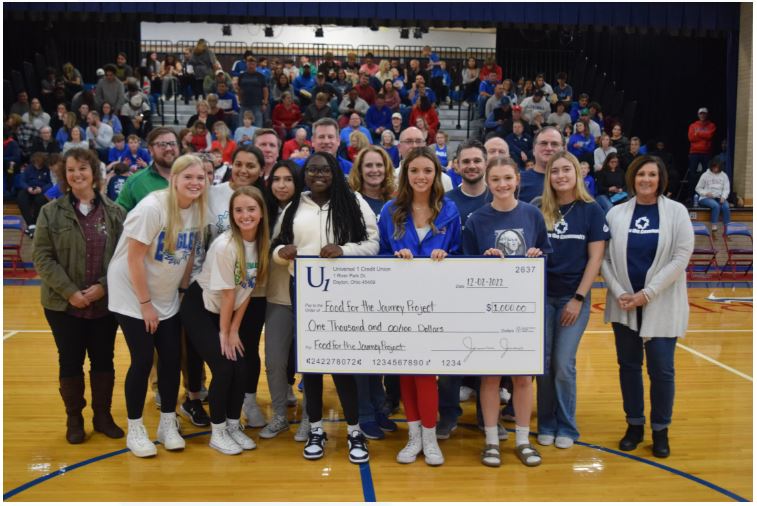 Carroll and CJ's spring blood drives marked their sixth annual participation in the "Unity in the Community" campaign. The schools partner with Community Blood Center and Universal 1 Credit Union to host blood drives and choose a charity for the $1,000 Unity Award sponsored by Universal 1.
The 2022 Unity blood drives at Carroll and CJ totaled 141 donors and 83 first time doors. The schools alternate choosing a charity to receive the Unity Award. The home team Carroll chose "Food for the Journey Project" and presented the check at halftime.
"Food for the Journey is a meal program different from a food pantry because we prepare the meals and serve them in neighborhoods," said FJP Executive Director Charles "Chuck" Wourms. "Hunger is neighborhood-centric. We treat it like catering for people who can't get out of their neighborhoods."
Carroll High blood drive coordinator Laura Wright said her students learned about the project while volunteering at the summer work camp sponsored the CHS religion department.
"We were serving grill cheese to the homeless," said Carroll student, Nadia Severt. "They set up a tent and people came, and we were able to talk to them."
Chuck said FJP serves 1,100 meals per week and will begin its ninth year in January. The Unity Award comes at an important time. "We're going to spend this donation immediately," he said. "We'll stretch this into thousands of meals to feed people here in Dayton."
Participating in the award presentation: Carroll High blood drive coordinator Laura Wright, Carroll student Nadia Severt, Carroll Principal Matt Sableski, Carroll Athletic Director, Scott Molfenter; Chaminade Julienne Administrator of Student Services Patrick Rizer, CJ Athletic Director Anthony Turner, CJ blood drive coordinator Angela Ruffolo, CJ Student Council President Emily Lopez-Espino & CJ Student Council member Layna Papalios, Ellie Feucht, Ashai Chan, Paige Harsman & Bella Taylor; Universal 1 Credit Union representative Sam McLain, Rhonda Sloan, & Kristen Marshall; CBC account manager Donna Teuscher; Food for the Journey Project Executive Director Charles Wourms & board members Mike Barlow & Larry Greger.
Blood donation requirements: Donors are required to provide a photo ID that includes their full name. Past CBC donors are also asked to bring their CBC donor ID card. Donors must be at least 17 years of age (16 years old with parental consent: form available at www.givingblood.org or at the Dayton CBC and mobile blood drive locations), weigh a minimum of 110 pounds (you may have to weigh more depending on your height), and be in good physical health. The Food and Drug Administration (FDA) changes blood donor eligibility guidelines periodically. Individuals with eligibility questions can email canidonate@cbccts.org or call (937) 461-3220. Make an appointment at www.DonorTime.com.
Community Blood Center/Community Tissue Services® is an independent, not-for-profit organization. Community Blood Center provides blood products to partner hospitals and health centers within its 15-county service area of western Ohio and eastern Indiana and to select hospitals and blood centers outside the region. For more information visit www.givingblood.org.
Go to main navigation