UNITY AWARD GIVES HELPING HAND TO WEST CARROLLTON PIRATE PACKS
WEST CARROLLTON, Ohio – Friendly rivals West Carrollton and Miamisburg High Schools completed their ninth annual Unity in the Community Campaign as heroes to patients in need of blood and to a charity that helps classmates who might go hungry.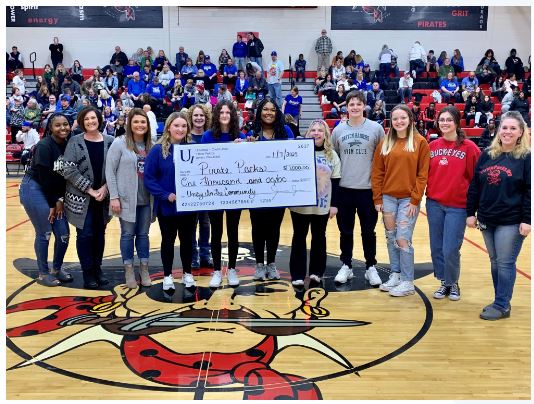 The schools presented the $1,000 Unity Award sponsored by Universal 1 Credit Union to "Pirates Packs" at halftime of the Jan. 7 WCHS vs. MHS men's basketball game. Jon Lewallen accepted the award on behalf of Pirate Packs.
Since 2012 Pirate Packs has been helping at-risk children have food for the weekend. It now serves students in all seven West Carrollton district schools who receive free or reduced lunches and breakfast at school. The goal is to keep children sufficiently fed through the weekend and ready to learn on Monday.
Helping a local charity is fundamental to the Unity Campaign. West Carrollton High and rival Miamisburg High held the first the Unity in the Community Campaign in 2014 in partnership with Community Blood Center and Universal 1 Credit Union.
Each year the traditional rivals host fall blood drives and alternate choosing a charity to receive the $1,000 Unity Award. Last year Miamisburg dedicated the award to their traditional charity CARE House, a community advocacy center for victims of abuse and neglect.
Miamisburg High began the 2022-2023 Unity Campaign with its Nov. 11, 2022 blood drive. It registered 136 donors and was the third biggest CBC high school blood drive of the fall semester. West Carrollton held its Unity blood drive Dec. 9, 2022 and totaled 82 donors. The WCHS-MHS Unity campaign combined for 218 donors.
Participating the presentation: West Carrollton student senate advisor and blood drive coordinator PJ Carlisle, West Carrollton student representatives: Peyton Winkler, Aicha Zaida, Breea Ellington, Dalton Kelly, Madelyn Schoenberger; Elyse Smith, Miamisburg Student Body President; Madison Hefelfinger, Miamisburg Student Body Secretary; Ariana Vesgas, Miamisburg Senior Class LT Governor; Ella Anspach, Miamisburg Senior Class Governor; Maya Hourani, Miamisburg Senior Class Secretary; Rhonda Sloan from Universal 1 Credit Union and Donna Teuscher from Community Blood Center.
Blood donation requirements: Donors are required to provide a photo ID that includes their full name. Past CBC donors are also asked to bring their CBC donor ID card. Donors must be at least 17 years of age (16 years old with parental consent: form available at http://www.givingblood.org/ or at the Dayton CBC and mobile blood drive locations), weigh a minimum of 110 pounds (you may have to weigh more depending on your height), and be in good physical health. The Food and Drug Administration (FDA) changes blood donor eligibility guidelines periodically. Individuals with eligibility questions can email canidonate@cbccts.org or call (937) 461-3220. Make an appointment at www.DonorTime.com.
Community Blood Center/Community Tissue Services® is an independent, not-for-profit organization. Community Blood Center provides blood products to partner hospitals and health centers within its 18-county service area of western Ohio and eastern Indiana and to select hospitals and blood centers outside the region. For more information visit www.givingblood.org.
Go to main navigation