YOUNG PATRIOTS GIVE BOOST TO CARROLL HIGH UNITY BLOOD DRIVE
DAYTON, Ohio – The youth movement at Carroll High continued March 29 with the seventh annual "Unity in the Community" Blood Drive. Freshmen biology students served as volunteers and many first time donors helped fill the schedule.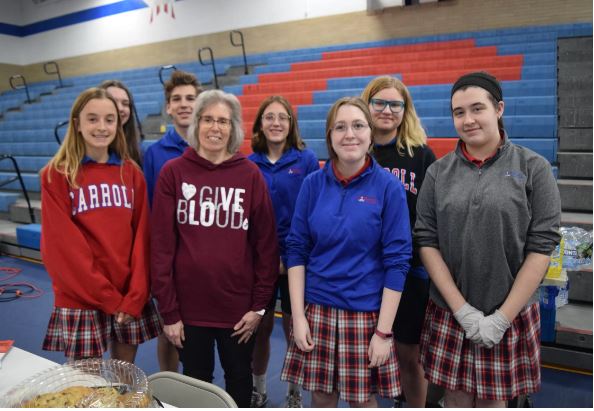 Carroll's spring blood drive completed the seventh annual "Unity in the Community" campaign with rival Chaminade Julienne High School. The schools partner with Community Blood Center and Universal 1 Credit Union to host blood drives and choose a charity for the $1,000 Unity Award sponsored by Universal 1.
The Carroll Unity blood drive totaled 55 donors, including 43 donations and 22 first time donors. Combined with CJ's Feb. 24 Unity blood drive, the rivals totaled 121 donors, with 95 donations and 56 first time donors.
CJ will choose the Unity Award recipient, to be presented at the Carroll-CJ basketball game in December. Last year Carroll chose the ?"Food for the Journey Project."
Carroll has come a long way since the outbreak of the COVID-19 pandemic cancelled high school blood drives. Carroll re-opened the gym on the final day of virtual classes in 2020 to reschedule their school blood drive. As the pandemic continued, Carroll shifted blood drives to Bloodmobiles. The spring blood drive returned to the gym in 2022.
"They hear me talking about it," said biology teacher and blood drive coordinator Laura Wright who has 70th lifetime donations. "I tell them if they want me to shut up about it, they might as well donate or give their time!
"Our blood drives are not as much as before COVID, but we have a lot of first time donors today so that's a good thing."
"It's not as many people, but everybody is very helpful with donating," said sophomore Sam Smith who began helping organize the blood drive as a freshman. Most of the blood drive volunteers are freshmen biology students who served special refreshments to donors in the Donor Café.
Junior Nora Sableski qualified for the CBC Red Cord honor with her third lifetime donation. "I wanted to get more involved with volunteering," said Nora. "To say I'm a blood donor is pretty cool, and I wanted to keep donating through my adult life."

Blood donation requirements: Donors are required to provide a photo ID that includes their full name. Past CBC donors are also asked to bring their CBC donor ID card. Donors must be at least 17 years of age (16 years old with parental consent: form available at www.givingblood.org or at the Dayton CBC and mobile blood drive locations), weigh a minimum of 110 pounds (you may have to weigh more depending on your height), and be in good physical health. The Food and Drug Administration (FDA) changes blood donor eligibility guidelines periodically. Individuals with eligibility questions can email canidonate@cbccts.org or call (937) 461-3220. Make an appointment at www.DonorTime.com.
Community Blood Center/Community Tissue Services® is an independent, not-for-profit organization. Community Blood Center provides blood products to partner hospitals and health centers within its 18-county service area of western Ohio and eastern Indiana and to select hospitals and blood centers outside the region. For more information visit www.givingblood.org.
Go to main navigation