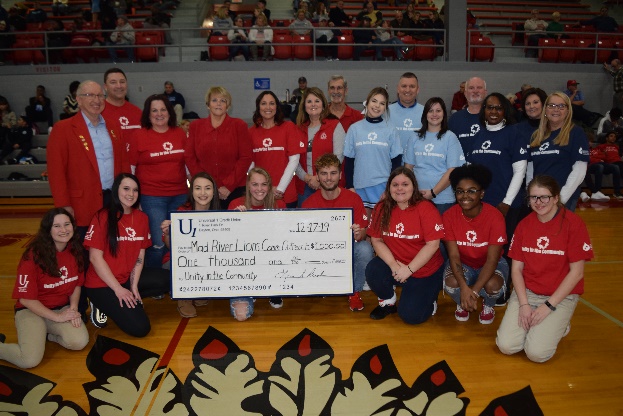 RIVERSIDE, Ohio – Walter E. Stebbins High School began the 2019 Unity in Community Campaign with rival Fairborn High by dedicating their Unity Blood Drive to a young leukemia patient at Mad River Middle School. They completed the campaign at the Dec. 17 Stebbins-Fairborn basketball by designating the $1,000 Unity Award to help needy families.
"Unity in the Community" is a partnership between Community Blood Center, Universal 1 Credit Union, and high school rivals Stebbins and Fairborn. Both high schools host CBC blood drives then alternate choosing a charity for the Unity Award sponsored by Universal 1.
The March 2019 Stebbins Unity Blood Drive and the February 2019 Fairborn Unity Blood Drive totaled 133 donations, 57 first-time donors and 102 donations and represented more than 133 community service hours. Stebbins dedicated the Unity Blood Drive to Mad River eighth-grade basketball player Jayden Wilcox who was diagnosed with acute lymphoblastic leukemia in 2018.
As this year's host high school, Stebbins chose the Mad River Lions Club as the recipient of the Unity Award. Universal 1 Credit Union's Dan Gouge and Mary Cook presented the $1,000 award to Lions Club members Rick Taylor, Rick Houser, Lydia Howser and Carrie Lemaster in a halftime ceremony at the Stebbins-Fairborn basketball game.
"It does help us out," said Lions Treasurer Rick Taylor. "We collaborate with the Stebbins Student Senate in the Project Share Christmas Basket Program. That's where the money goes. The school district collects non-perishable food items, we provide the perishable foods such as turkeys, and the students raise money to buy Christmas toys."
Taylor said Project Share will provide gift baskets to more than 100 needy families in the Mad River School District.
Blood donation requirements: Donors are required to provide a photo ID that includes their full name. Past CBC donors are also asked to bring their CBC donor ID card. Donors must be at least 17 years of age (16 years old with parental consent: form available at www.givingblood.org or at CBC branch & blood drive locations), weigh a minimum of 110 pounds (you may have to weigh more, depending on your height), and be in good physical health. The Food and Drug Administration (FDA) changes blood donor eligibility guidelines periodically. Individuals with eligibility questions are invited to email canidonate@cbccts.org or call 1(800)388-GIVE. Make an appointment at www.DonorTime.com.
Community Blood Center/Community Tissue Services® is an independent, not-for-profit organization. Community Blood Center provides blood products to 23 hospitals and health centers within a 15-county service area in the Miami (Ohio) and Whitewater (Indiana) Valleys. For more information about Community Blood Center/Community Tissue Services®, visit www.givingblood.org.
Go to main navigation