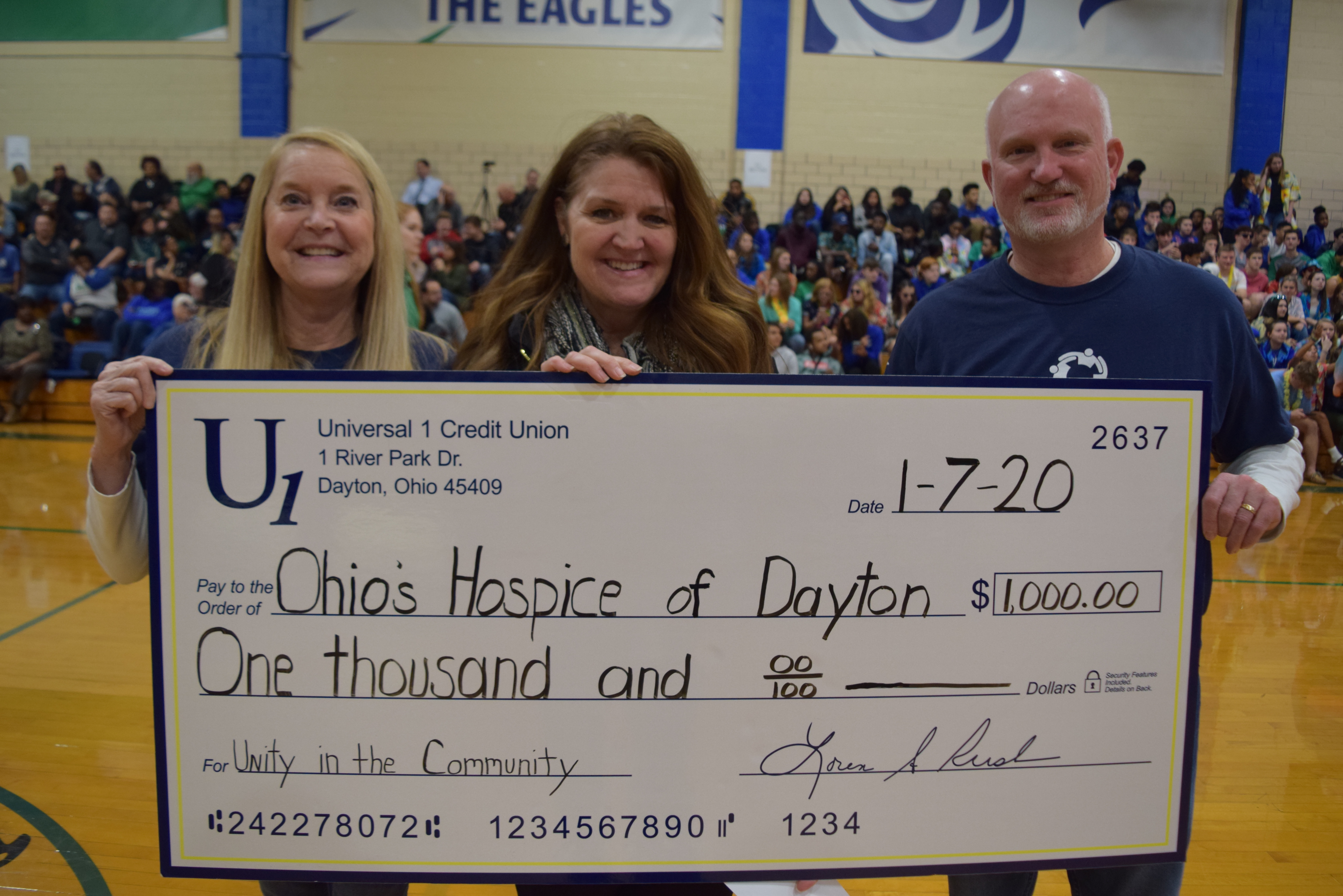 DAYTON, Ohio – Rivals Chaminade Julienne and Carroll High Schools battled on the basketball court with CJ claiming an overtime thriller. But they declared truce at halftime as they celebrated their third annual "Unity in the Community" campaign with the presentation of the $1,000 Unity Award to Ohio's Hospice of Dayton.
The rivals partnered with Community Blood Center and Universal 1 Credit Union for the 2019 Unity campaign. To take part, both high schools host blood drives and they alternate identifying a charity to receive the $1,000 Unity Award sponsored by Universal 1.
CJ hosted the rival basketball game and designated Ohio's Hospice of Dayton to receive the award. "Our Student Council went there for Make A Difference Day," said Student Council Advisor and blood drive coordinator Angela Ruffolo. "They wanted to pick the charity, and this was the one they chose."
"They do work with us there and help with fundraising events." Said Melissa Rome, who accepted the award at the halftime ceremony on behalf of the Hospice of Dayton Foundation. "It's very meaningful that they chose us. It goes to benefit patience care and service to the families. Hospice of Dayton turns no one away, regardless of their ability to pay."
The Unity campaign began with CJ hosting a Unity blood drive on Feb. 22, 2019, followed by Carroll's Unity blood drive on March 13, 2019. The rivals combined for 167 donors, including 86 first-time donors and 131 donations.
Participating in the award ceremony: Chaminade Julienne High School Principal Greg Mueller, Athletic Director Jeremy Greenleaf, blood drive coordinator Angela Ruffolo, and students Maria Weizman, Claire Leingang, Kate Schinaman, Andrew Wong and Ellie Reeves; Carroll High School Principal Matt Sableski, Athletic Director Scott Molfenter, blood drive coordinator Laura Wright, and blood drive student chair Ryan Ballou; Universal 1 Credit Union's Mary Cook and Dan Gouge from and Community Blood Center's Donna Teuscher.
Blood donation requirements: Donors are required to provide a photo ID that includes their full name. Past CBC donors are also asked to bring their CBC donor ID card. Donors must be at least 17 years of age (16 years old with parental consent: form available at www.givingblood.org or at CBC branch & blood drive locations), weigh a minimum of 110 pounds (you may have to weigh more, depending on your height), and be in good physical health. The Food and Drug Administration (FDA) changes blood donor eligibility guidelines periodically. Individuals with eligibility questions are invited to email canidonate@cbccts.org or call 1(800)388-GIVE. Make an appointment at www.DonorTime.com.
Community Blood Center/Community Tissue Services® is an independent, not-for-profit organization. Community Blood Center provides blood products to 23 hospitals and health centers within a 15-county service area in the Miami (Ohio) and Whitewater (Indiana) Valleys. For more information about Community Blood Center/Community Tissue Services®, visit www.givingblood.org.
Go to main navigation