CHALLENGES & CHRISTMAS CHEER COME WITH UNITY AWARD
FAIRBORN HIGH CHOOSES FAIRBORN FISH CHARITY FOR $1,000 GIFT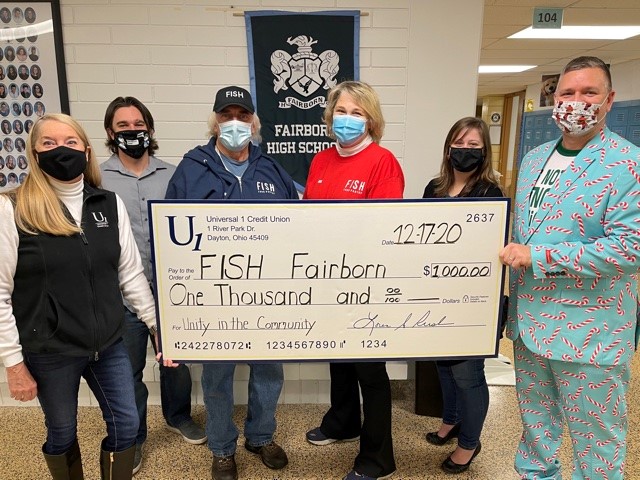 FAIRBORN, Ohio – Students were at home and the hallways empty at Fairborn High School on Thursday morning, Dec. 17. But Principal Brian McKnight delivered the Christmas cheer in his bright candy cane print suit, and Universal 1 Credit Union delivered the $1,000 check to present to the Fairborn Fish charity in the annual Fairborn-Stebbins Unity in the Community campaign.
Fairborn and neighboring Stebbins High have taken part in the Community Blood Center/Universal 1 Credit Union "Unity in the Community" campaign since 2018. The rivals each host a CBC blood drive and alternate choosing a local charity for the $1,000 Unity Award sponsored by Universal 1.
The Stebbins and Fairmont High Unity blood drives were completed Feb. 27 and March 3, just before the COVID-19 pandemic took hold, forcing suspension then cancellation of all classes and school activities.
Their blood drives totaled 116 donors, 59 first-time donors and 88 units donated. It was Fairborn's year to choose the charitable cause as the recipient of the $1,000 Unity Award, and they picked their favorite charity, the Fairborn Fish food pantry.
The award presentation would normally take place at halftime of the Fairborn-Stebbins rival basketball game, but in a season limited by COVID-19 pandemic restrictions, only family members attend games.
Mary Cook and Sam McLain brought the giant $1,000 Unity Award check to Stebbins to present to Jane and Bill Doorley, managers of Fairborn Fish.
"It's a great project," said Jane. "We are seeing an increase in need so this will help a lot. We anticipate some 200 people tomorrow." The pantry planned a holiday gift day and knew it would draw even more people in need of food and shelter.
"A lot of people are sharing spaces, are homeless, or are pulling up in cars together," she said.
Principal Brian McKnight tries his best to keep up the spirits of staff and students during a difficult time. His candy cane suit was just one outfit. He also dressed as the main character in the popular holiday movie "Elf" and got rave reviews.
"We're happy when our kids are here," said Brian. "It presents a lot of challenges, not having kids in the building. We're hoping to have them back as soon as possible."
They also hope to resume their blood drive schedule. "The plan is for Feb. 11," said blood drive coordinator Laura McCabe. "That's what we're planning!"
Go to main navigation