CARROLL HIGH HELPS 'WITH GOD'S GRACE' FOOD PANTRY WITH UNITY AWARD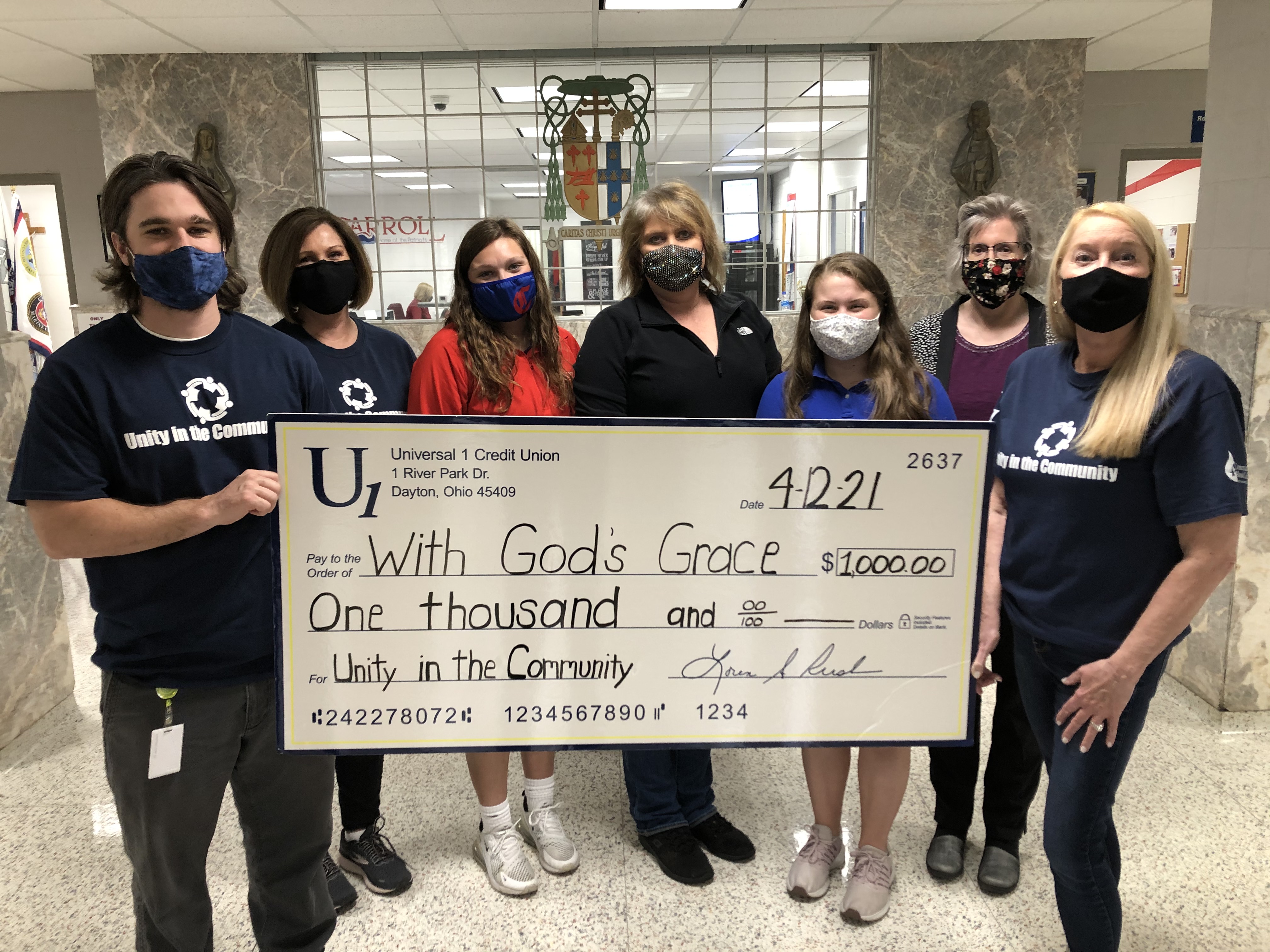 DAYTON, Ohio – High school students will long remember the health threat and heart-breaking cancellations of the COVID-19 crisis. During it Carroll and Chaminade Julienne High Schools stayed committed to saving and improving lives with their fourth annual "Unity in the Community" campaign.
Carroll rescued the 2020 Unity campaign by rescheduling a Unity blood drive at a dark time in the pandemic. Student volunteers completed the campaign by choosing the "With God's Grace" Food Pantry as the 2020 recipient of the Unity Award and presented the $1,000 check on April 12.
"Unity in the Community" is a partnership between Community Blood Center, Universal 1 Credit Union and a select group of rival high schools in the region. Carroll and CJ first joined the Unity Campaign in 2017. Rival schools host CBC blood drives then alternate choosing a charity to receive the annual $1,000 Unity Award sponsored by Universal 1.
"We do a lot of work with them," said Carroll High senior Donna Lawhorn. "During the summer we have a Work Camp and one of the places we go one day of the week is 'With God's Grace.' We stocked food in boxes for people coming to pick them up."
"With God's Grace" Executive Director Nicole Adkins said the pantry has expanded to five mobile food pick-up locations across the Miami Valley and opened the Northridge Free Store in December. The pantry will put the $1,000 Unity Award to immediate use.
"Actually, this is 4,000 meals," she said. "We could distribute at different mobile locations and each family will get five days' worth of meals."
Carroll students also volunteer monthly at "With God's Grace." "Not many places would let us in because of COVID, but (Nicole) said, 'OK,'" said Carroll High Service Coordinator Melissa Fisher.
"I love them," said Nicole. "They go to our Xenia location and our Free Store."
CJ began the 2020 Unity campaign by hosting the "HEMA-Glowin' Blood Drive" Feb. 21, 2020. It topped 104% of goal with 91 donors and 71 donations.
Carroll was scheduled to follow with a Unity blood drive on March 16, 2020 but it was cancelled as the sweeping COVID-19 pandemic closed schools and forced society into lock-down.
Student blood drive volunteers asked to reschedule the blood drive on May 21 in the school gym on the last day of virtual classes. Students and parents filled all the appointments, totaling 56 donors and 47 donations.
"They really wanted to hold their blood drive," said CBC account representative Donna Teuscher. "It was a scary time and they pulled it off and did great."
"It brough us Unity," said Carroll High blood drive coordinator Laura Wright. "We were together here at school, and the parents came here too with the students and that was nice."
"Unity in Community" originated with Miamisburg and West Carrollton in 2014 and has grown to include eight rival schools. Each sponsor CBC blood drives and choose an annual recipient for the Universal 1 Unity Award.
Go to main navigation