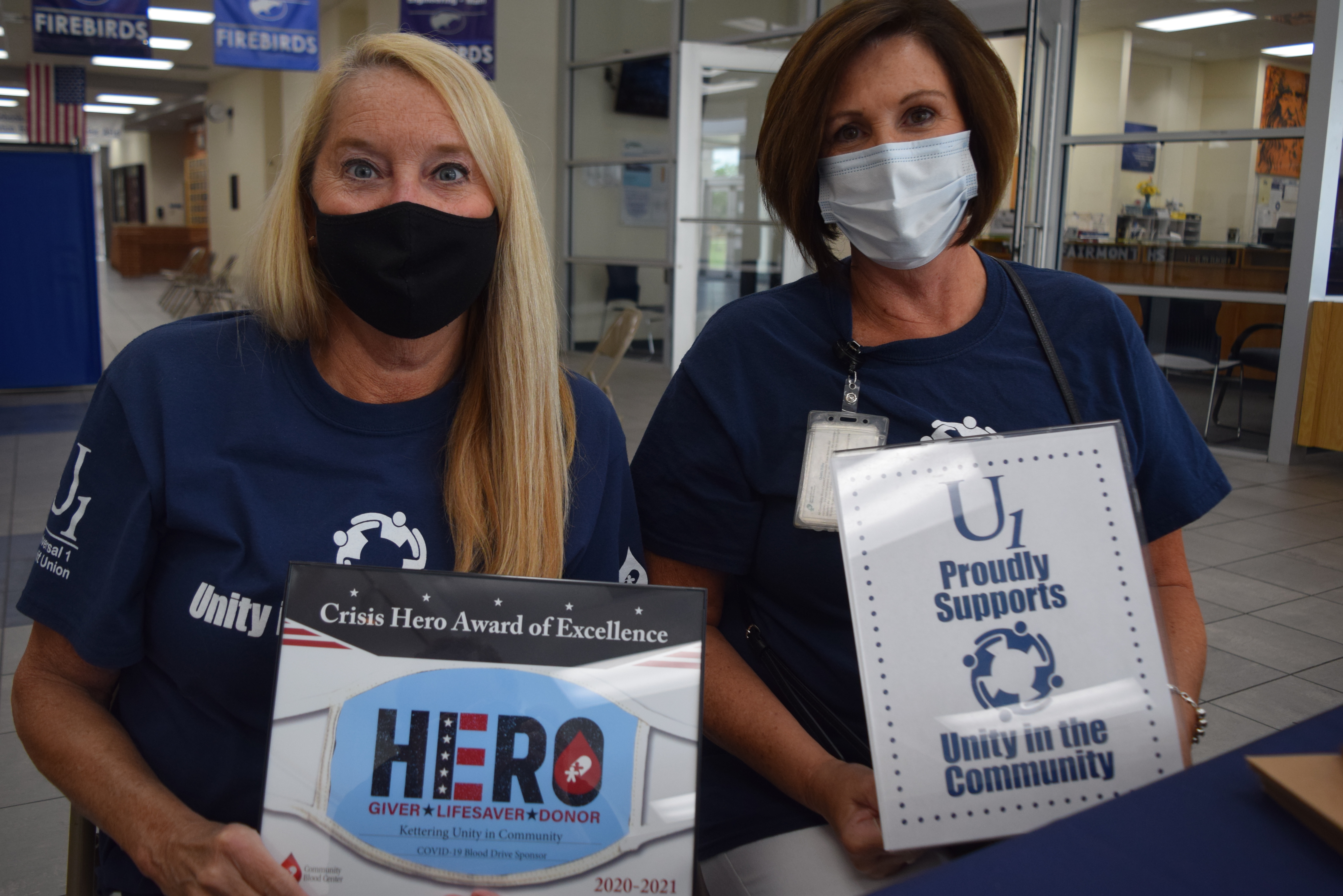 KETTERING, Ohio - Summer seemed "normal" again at the July 9 "Kettering Unity in the Community" blood drive. It was back on the Fairmont High School campus and donors could look out the windows and watch the Firebird color guard practicing for the upcoming high school football season.
It also felt normal to be donating in mid-summer to help kick-off the new "Unity the Community" campaign with traditional Kettering rivals Fairmont and Archbishop Alter High Schools. The blood drive totaled 80 donors, including 74 donations and seven first-time donors for 95% of collection goal. Community Blood Center thanked donors with Chick-Fil-A gift cards.
The "Kettering Challenge" began as way to recruit high school students during summer break to help replenish the blood supply after the July 4th holiday.
It became the Kettering Unity Blood Drive in 2015 when Fairmont and Alter joined forces for the Unity campaign. For the sixth year they are partnering with CBC and Universal 1 Credit Union to host fall blood drives and jointly present a $1,000 award sponsored by Universal 1 to a designated charity.
Friday's blood drive kicked-off the 2021-2022 Unity campaign amid high hopes for a "normal" year for all high school activities.
High school blood drives in the 2020-2021 school year were down 28% compared to before the pandemic. The biggest impact of COVID-19 was on the size of high school blood drives. The number of donors decline 52% and first-time donors declined 48%.
Alter and Fairmont are among the eight high schools that participate annually in the Unity Campaign. All held Unity blood drives during the pandemic.
Despite COVID restrictions, the Fairmont and Alter blood drives combined for 131 donors, 47 first-time donors, and 106 donations. The Alter High CURE Club selected the "Ride Cincinnati - Bike Ride for Cancer Research" to receive the 2020 Unity award.
COVID restrictions did prevent them from making the traditional Unity award presentation at the Fairmont-Alter basketball game.
"Every place was closed down and we weren't able to present the check at the basketball games," said Universal 1's Mary Cook. "But we were able to donate the one thousand dollars to the various charities through the high schools. We're hoping for in-person basketball games and check presentations next year!"
Students in the Allied Health program sponsor Fairmont blood drives. Alexa Crousser, a 2020 graduate in Allied Health, returned to donate Friday. She's now a nursing student,
"I worked at the blood drive multiple times," said Alexa. "I've known since I was a kid, even when I was little, that I wanted to do medical."
For Fairmont seniors Bella Hoskins and Leah Ranchel, donating at the Unity blood drive seemed like a good way to begin their final year in the Allied Health and Bio-technology programs. Bella said, "I'm going to go into nursing," and Leah added, "I'm looking forward to college."
###
Go to main navigation