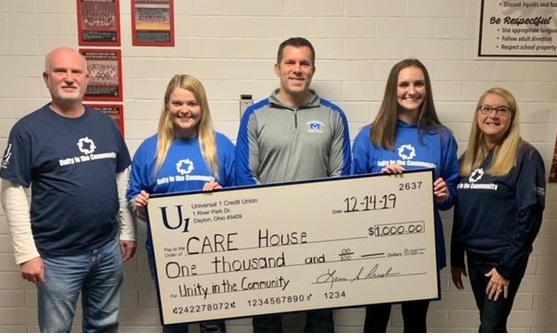 WEST CARROLLTON, Ohio – West Carrollton and Miamisburg High Schools celebrated completion of the sixth annual "Unity in the Community" campaign by presenting the $1,000 Unity Award for 2019 to CARE House of Dayton during halftime of the rivals' Dec. 14 basketball game at West Carrollton.
"Unity in the Community" is a partnership between Miamisburg and West Carrollton High Schools, Community Blood Center, and Universal 1 Credit Union. The schools host fall blood drives and alternate choosing a charity to receive the $1,000 award sponsored by Universal 1.
"Unity in Community" originated with Miamisburg and West Carrollton in 2014 and has grown to include eight rival schools. The 2019 Unity blood drives at Miamisburg and West Carrollton totaled 225 donors, 135 first-time donors, and 166 donations.
It was Miamisburg's year to select the Unity Award recipient, and the Vikings' choice of CARE House as their favored charity has become part of the Unity tradition. CARE House is a community advocacy center for victims of abuse and neglect. The CARE House mission is to ensure that children and families are not further traumatized as their cases progress through the legal system.
"We do a trip to Care House every other year, so by the time they have visited, seen it, and learned about it," said Miamisburg Student Government advisor and blood drive coordinator Jenny Brockert. "It's become our mission to bring awareness to child abuse. It's a tradition and they pass it down."
The check presentation ceremony included: Miamisburg High School Student Government members Winter and Allison Myers, MHS Principal Michael Black and Athletic Director Jason Osborne; West Carrollton High School Student Council members Brooklyn Cass, Olivia Davis, Shundrick Parker, Trinity Berry, Noah Babb; WCHS blood drive coordinator P.J. Babb; WCHS Principal Candace Haffner, Universal 1 Credit Union's Mary Cook and Dan Gouge and Community Blood Center's Donna Teuscher.
Blood donation requirements: Donors are required to provide a photo ID that includes their full name. Past CBC donors are also asked to bring their CBC donor ID card. Donors must be at least 17 years of age (16 years old with parental consent: form available at www.givingblood.org or at CBC branch & blood drive locations), weigh a minimum of 110 pounds (you may have to weigh more, depending on your height), and be in good physical health. The Food and Drug Administration (FDA) changes blood donor eligibility guidelines periodically. Individuals with eligibility questions are invited to email canidonate@cbccts.org or call 1(800)388-GIVE. Make an appointment at www.DonorTime.com.
Community Blood Center/Community Tissue Services® is an independent, not-for-profit organization. Community Blood Center provides blood products to 23 hospitals and health centers within a 15-county service area in the Miami (Ohio) and Whitewater (Indiana) Valleys. For more information about Community Blood Center/Community Tissue Services®, visit www.givingblood.org.
Go to main navigation