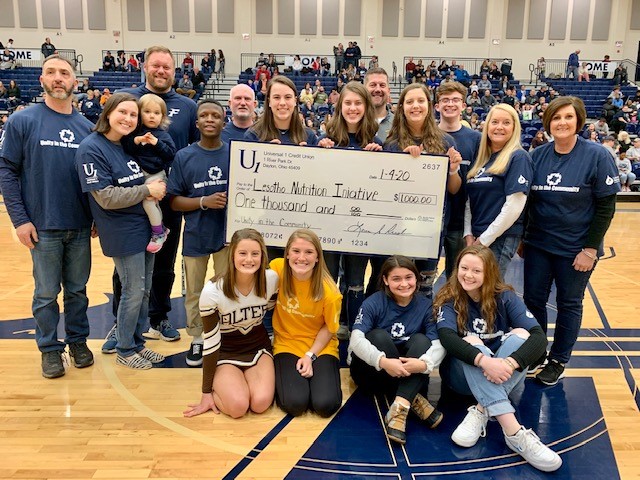 KETTERING, Ohio – Rivals Fairmont and Alter High Schools joined forces to help fight world hunger in their fifth annual "Unity in the Community" campaign by dedicating the $1,000 Unity award to the Lesotho Nutrition Initiative in a halftime presentation at the Jan. 4 Fairmont-Alter basketball game.
"Unity in the Community" is a partnership between Archbishop Alter and Fairmont High Schools, Community Blood Center and Universal 1 Credit Union. Both schools host fall blood drives and jointly present a $1,000 award sponsored by Universal 1 to a designated charity.
The Alter and Fairmont Unity blood drives combined for 281 donors, 138 first-time donors, and 212 donations – a nearly 25 percent increase over last year's Unity campaign. First-time donors rose 30 percent.
The schools alternate designating the charity to receive the Unity Award. Representatives from both schools presented the check at the halftime ceremony.
It was Fairmont's year to name a charity and the Firebirds chose the Lesotho Nutrition Initiative. Lesotho is a small country of two million people, encircled by South Africa. It has an estimated 360,000 orphans and some 550,000 children facing severe malnutrition. The initiative started at Wittenberg University and in the last four years volunteers have packed and sent one million meals to Lesotho.
Alter High students were enthused about Fairmont's choice because the Alter Key Club has also participated in the Lesotho Nutrition Initiative.
Blood donation requirements: Donors are required to provide a photo ID that includes their full name. Past CBC donors are also asked to bring their CBC donor ID card. Donors must be at least 17 years of age (16 years old with parental consent: form available at www.givingblood.org or at CBC branch & blood drive locations), weigh a minimum of 110 pounds (you may have to weigh more, depending on your height), and be in good physical health. The Food and Drug Administration (FDA) changes blood donor eligibility guidelines periodically. Individuals with eligibility questions are invited to email canidonate@cbccts.org or call 1(800)388-GIVE. Make an appointment at www.DonorTime.com.
Community Blood Center/Community Tissue Services® is an independent, not-for-profit organization. Community Blood Center provides blood products to 23 hospitals and health centers within a 15-county service area in the Miami (Ohio) and Whitewater (Indiana) Valleys. For more information about Community Blood Center/Community Tissue Services®, visit www.givingblood.org.
Go to main navigation