WCHS UNITY AWARD HELPS STRUGGLING FAMILIES DURING PANDEMIC
CBC & UNIVERSAL 1 SPONSOR 7TH ANNUAL WCHS-MIAMISBURG CAMPAIGN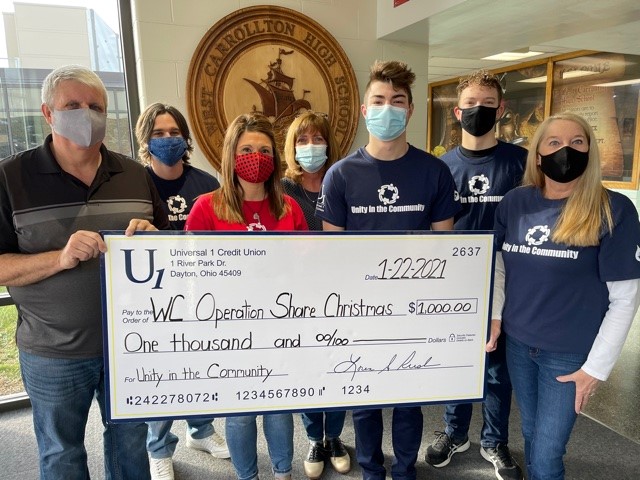 WEST CARROLLTON, Ohio – In a pandemic year of crisis, cancellations and disappointments, West Carrollton and Miamisburg High Schools remained committed to their seventh annual "Unity in the Community" campaign.
The traditional rivals came together to dedicate their 2020 Unity blood drive campaign and the $1,000 Unity Award to the "West Carrollton Operation Share Christmas" charity in a check presentation Jan. 22 at WCHS.
"Unity in the Community" is a partnership between Miamisburg and West Carrollton High Schools, Community Blood Center, and Universal 1 Credit Union. The schools host fall blood drives and alternate choosing a charity to receive the $1,000 award sponsored by Universal 1.
"When you surround yourself with good people, leadership is easy," said WCHS Principal Candice Haffner in praise of blood drive coordinator P.J. Babb and the Student Body volunteers. "We believe in it, and the community needs it," she said. "There's been so much we had to give up. The list is long of what we can't do. This is something we can do."
The West Carrollton Food Panty has not been able to fully operate during the pandemic, but former city council member Jim Folker headed a committee that raised funds to continue the annual "Operation Share Christmas" campaign.
"We went out and asked for donations and identified the people that needed help," said Jim. "We gave a week's worth of groceries to 167 families. The larger the family, the more food they got. Last year we helped 120 families, so we were able to do more."
"It comes down to basic needs," said Principal Haffner. "We felt it was important."
West Carrollton also felt confident about allowing CBC to conduct a student blood drive during the pandemic. Unlike the school's traditional blood drives, the Dec. 4, 2020 blood drive was held on a Bloodmobile with a limited number of student donors.
West Carrollton High's blood drive totaled 32 donors. Combined with rival Miamisburg High's Nov. 6 blood drive, the schools totaled 121 donors, including 46 first-time donors and 90 donations.
"It was the first time we had it on a Bloodmobile, and I've been doing the blood drive for 20 years," said P.J. "I had to recruit virtually. We were remote at the time and had only come back to hybrid (remote and in-person classes) right before the blood drive. During the recruiting, it was all virtual."
Student Body President Ashton Davey and P.J.'s son Noah Babb, the Student Body Secretary, were part of the check presentation. They helped choose "Operation Share Christmas" for the award.
"We usually have a food drive at the middle school for the food pantry, but because of COVID we couldn't," said P.J. "So, the Student Body decided this would help compensate for that loss."
"Unity in Community" originated with Miamisburg and West Carrollton in 2014 and has grown to include eight rival schools. Each sponsor CBC blood drives and choose an annual recipient for the Universal 1 Unity Award.
###
Blood donation requirements: Donors are required to provide a photo ID that includes their full name. Past CBC donors are also asked to bring their CBC donor ID card. Donors must be at least 17 years of age (16 years old with parental consent: form available at www.givingblood.org or at CBC branch & blood drive locations), weigh a minimum of 110 pounds (you may have to weigh more, depending on your height), and be in good physical health. The Food and Drug Administration (FDA) changes blood donor eligibility guidelines periodically. Individuals with eligibility questions are invited to email canidonate@cbccts.org. Make an appointment at www.DonorTime.com or call (937) 461-3220.
Go to main navigation